In case you didn't know, this Sunday is Earth Day, and there's been a lot of news lately about the state of our environment. There's even a climate march happening in D.C. on April 29th to bring further awareness. As coffee lovers, we should clearly care about the planet, considering this thing we all know and love comes from the earth. But how can we show we care? Below are several ways we as coffee drinkers can contribute to the betterment of our planet:
BYOM
Bring your own mug. This is the easiest way to contribute. If you're anything like me, you have a cabinet of travel mugs just gathering dust. Also if you're anything like me, you feel a little bit of guilt using yet another paper cup when you pick up your latte to-go. To limit waste, pull out those travel mugs and take them to your favorite coffee shop. Some shops even provide a discount for those who bring in their own travel mugs to use – score!
Exercise your green thumb

Used coffee grounds are great for composting! You can simply spread grounds in with the soil when planting and cover with mulch or incorporate it well into the soil. Be careful to only do this with acid-loving plants though (think tomatoes and roses)! You can also add used coffee grounds to your compost pile. The amount of nitrogen content in the grounds is beneficial to the composting process, though it works best when they make up no more than 25% of the total compost. The grounds also produce phosphorus and potassium which are good nutrients for plants. If your filters are biodegradable, toss them on in to the compost pile as well!
Unleash your inner Martha Stewart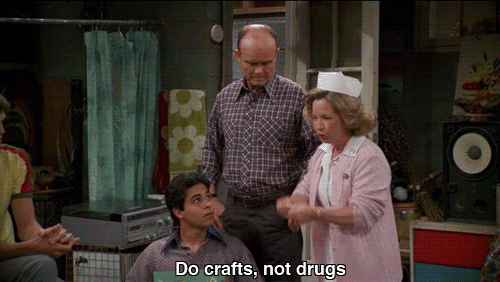 Get crafty with coffee! When coffee shops receive their shipments of beans, they arrive in oversized burlap sacks. For those of you who are crafty, there are lots of things you can do to give these burlap sacks a second life. Some shops will announce when they have bags available and let you pick them up for free, or you can simply go in and ask if they have any they're planning to throw out (you can do this as well for used coffee grounds for your compost pile). If you need some inspiration for your arts & crafts, look no further.
Hit the books

Learn more about coffee production. Yes, this requires a bit of research, but not only will it give you a little more knowledge on the process, it might even offer you some peace of mind knowing your coffee is grown in a healthy environment and the workers compensated fairly. Look at companies such as Swing's who with their Home Grown Coffee Initiative stress transparency about the coffee sourcing process or our latest roaster of the month Vigilante who provide behind the scenes scoop via social media about their trips to various coffee farms around the world. Being more cognizant about the product makes us more responsible coffee drinkers.
~~~~~~~~~~~~~~~~~~~~~~~~~~~~~~~~~
Happy (early) Earth Day! Now let's drink some coffee and get to work for the betterment of our common home.
Keep caffeinated,
Lauren